Gearing Up for Gardening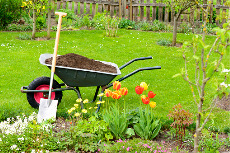 Spring beckons us outdoors to drink in the warmer air and longer days. The season is also a pivotal time to get our gardens in shape for the prime summer season, so head out into the spring sunshine and take on these essential gardening tasks recommended by the home experts at Martha Stewart Living.

Assess the Yard. Focus on the trees first, noting any limbs that need to come down, especially those that are dangling precariously over structures or wires. For large trees, bring in a professional. Next, cut down any foliage from last year's perennials and add it to your compost pile. Then tackle your garden beds, raking old mulch and leftover leaves. And last, but not least, check fences, porches, decks and pathways for signs of disrepair that need fixing.

Prep Your Tools. If you're like a lot of people, you probably didn't store your tools properly over the winter, which means they now need some TLC. Sharpen blades, clean/sand wooden handles and then polish them with linseed oil. Make note of any tools that need to be replaced and stock up so that you're ready for peak season.

Inventory Your Plants. Think about existing gaps in your landscape and order perennials, trees or plants for parts of your garden that need filling in. Nurseries will special order anything they may not have in stock.

Tend to the Lawn. Spring is a critical time to focus on the grass. Make sure your lawn mower and leaf blower are in good shape. Give them a tune-up, refill the mower with oil, then clear the yard of any debris. Reseed any areas that look bare before mowing.

Prune Shrubs. Cut back any dead, damaged or diseased branches, and thin and trim spring-blooming bushes, like hydrangeas and roses.

Prep New Garden Beds. Create a new planting area by digging the soil, removing weeds and debris, adding oxygen and a four-inch layer of compost or fertilizer. Smooth it all out with a rake before planting.

These are just some of the steps that will get your yard and garden in prime condition for peak season. Better yet, you'll enjoy the beauty of spring while you're at it.
Thanks for visiting my Blog site. If you would like to discuss this topic with me or get more information please contact me by calling 919-247-4667 or emailing me at Tim@TheTrianglesBroker.com. And you can always visit my personal real estate website for lots of additional information and to search for homes at www.TheTrianglesBroker.com.
Reprinted with permission from RISMedia. ©2019. All rights reserved.